Resources are available
to help you successfully
take Talicia.
Patient
Brochure:
Find out more about Talicia
and H. pylori infections.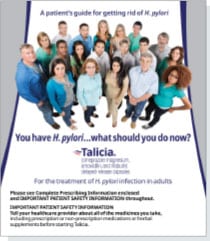 Available in: English, Spanish,
Chinese (Mandarin), Russian,
Korean, and Vietnamese
Talicia
Savings Card:
You could pay as little as
$35 for Talicia*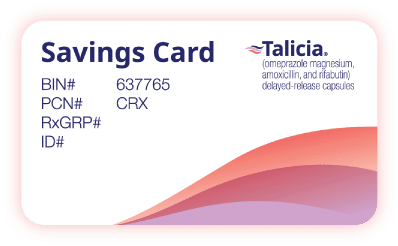 *Eligible, commercially insured patients may pay as little as $35 per prescription fill of Talicia. Offer not valid for patients enrolled in Medicare, Medicaid, or other federal or state healthcare programs.
The Talicia
Warranty Program:
Designed for eligible patients who complete a full course of therapy, in whom the infection has not been eradicated. When specified criteria and program requirements are met, these patients can be fully refunded their out-of-pocket expense for their purchase via mail-in-rebate.
Applying for the rebate requires two forms. One completed by the patient and one by their healthcare professional.
See below to download program forms and instructions.
Talicia Warranty Program Forms
To request a refund, eligible patients should follow the steps below:
Download and complete the Patient Declarations and Authorization Form.
Download and have your doctor complete the Healthcare Provider Attestation Form.
Submit both completed and signed forms, along with the following to Talicia.warranty@truveris.com.

A proof of purchase (original pharmacy receipt with name and address, pharmacy name, product name, prescription number,
NDC number, date filled, quantity, and price)
Patient date of birth
Address where check is to be mailed
Image of front and back of Insurance card (if insurance was used to purchase Talicia)
Image of front and back of Talicia Savings card (if Talicia savings card was used to purchase Talicia)

Incomplete submissions and/or submissions that fail to meet all program requirements will not be granted
Stay up to date on Talicia and H. pylori