Talicia was highly effective as first-line therapy
High rates of H. pylori eradication1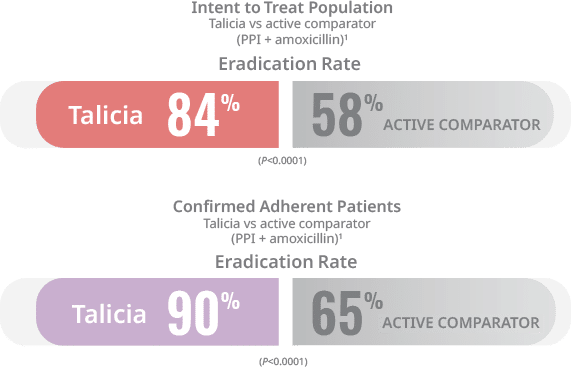 Findings from the Talicia phase 3 pivotal study in 455 treatment-naïve subjects with
confirmed H. pylori infection. Eradication rates were 84% for Talicia in the all-patient
population, also known as the intent-to-treat population. Eradication rates were 90%
for Talicia in the confirmed adherent population, which was a prespecified, protocol-defined
population with confirmed blood levels of study drug at day 13 of the 14-day regimen.
REFERENCE: 1. Graham DY, Canaan Y, Maher J, Wiener G, Hulten KG, Kalfus IN. Rifabutin-based triple therapy (RHB-105) for Helicobacter pylori eradication:a double-blind, randomized, controlled trial. Ann Intern Med. 2020;172(12):795-802.